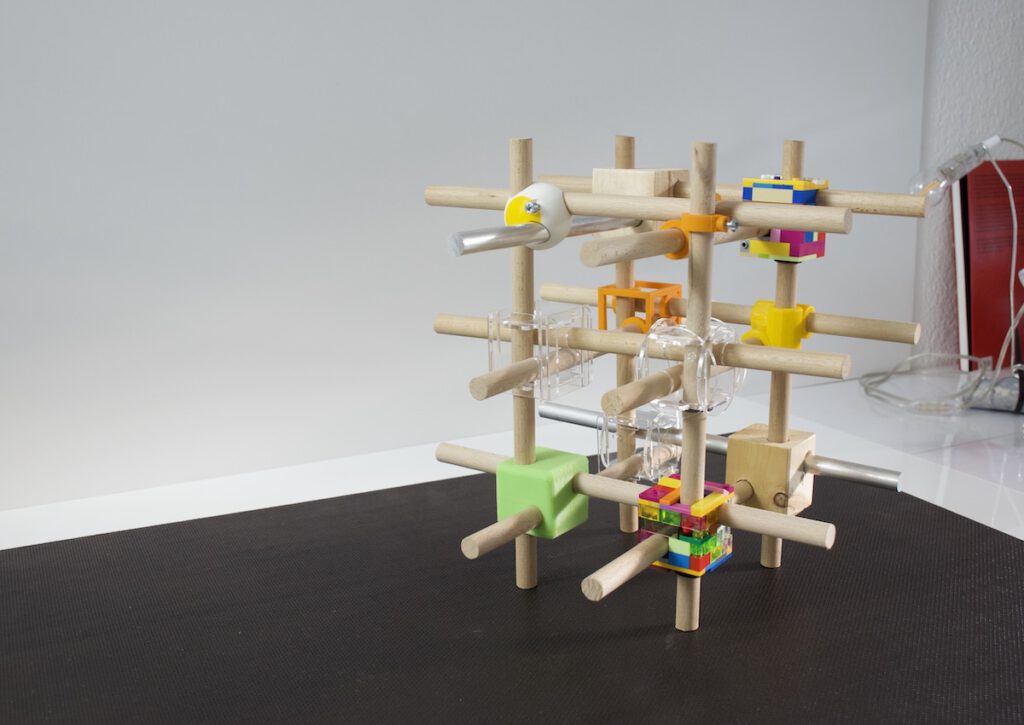 *
Mifactoris open shelve nodes – fails (open ends)
For introduction, use cases and other versions of the "Open Shelve Nodes" go to → OSN Overview.
*
fails
introduction ↓
Here are some things we tried but could not make work (so far). Do you have ideas, hints or success stories? Let us know.
1. Concrete version?
2. Wooden balls?
3. Solid acrylic block?
4. Cable binders?
*
1 Concrete ?
pics ↓
info ↓
We thought a concrete version would be cool. But …
we tried it in the open factory streaming #5 using a 3d printed test mould like with the silicone version. But it was impossible to get the node later out of the mould. The result broke during the attempt. So the mould would need a different design (separately removable panels on all sides) and also be made from a different material. We don't have an idea for a DIY ready mould solution that would be reusable though. Maybe laser cutting acrylic …
But the experiment raised another question. Will a concrete version be strong enough for a shelve? Normally, concrete structures have metal inlets.
*
2 Wooden balls ?
pics ↓
info ↓
We tested a wooden ball. This would look super cool. But …
it is basically impossible to drill a wooden ball in the way you would have to drill it to make an open shelve node – using DIY tools.
Even if you solve the drilling. The question is, how to fix the wooden ball to the y bar without undermining the aesthetic quality of the ball or the modular circularity of the construction (using a screw, yes, would work, but is not really pre-use; bars that taper towards the top, yes, but how flexible and modular would this be?)
*
3 Solid acrylic blocks ?
pics ↓
info ↓
The second open shelve node test we ever made was made with solid blocks of acrylic. This looks (would look) really amazing. Especially in combination with aluminium or coloured bars and in exhibition contexts! But:
As you can see in the images above, it is quite challenging to drill these blocks without material breakage occurring in the process. You can probably solve this. But you need sharp tools and a smart drilling solution and some craftsmanship skills.
A second downside is the prize of the material. Especially if you want to have all sides of the cubes clear and transparent (acrylic is manufactured in sheets, you can cut it with a saw, which will makes the cut side blind. You can avoid/solve this. But it will make the process more complex and expensive.
But it would work just great to fix it at the y bar (stoppers). You can drill acrylic and put an internal thread into it using a simple hand tool thread cutter.
*
4 Cable binders ?
pics ↓
info ↓
Shelve nodes from cable binders?
We tested during the open factory streaming #5 (26m50s). And as you can see in the video, the result is a wobbly unstable structure. BUT! Of course. The whole structure would become much more stable when you have one (or two) solid open shelve nodes somewhere in it. (Maybe on the corner(s) and in larger shelves also in the middle). So. If you don't have enough shelve nodes you can compensate missing ones using cable binders. … Basically. This is not a fail then, but a discovery, right? "fixable"
*
*
Questions, suggestions?
cool! shoot us an email or ping on social media.
*
Back to → open shelve nodes overview