–
Contribution Guide
–
Mifactori develops open design or more precisely: we create open source hardware, open education and open activism in search of sustainability. Openness enables collaboration. You can use our work in any way you see fit. And maybe we can learn something from you when you use it or develop it further. Let's make progress for sustainability together.
Here is how to collaborate and contribute: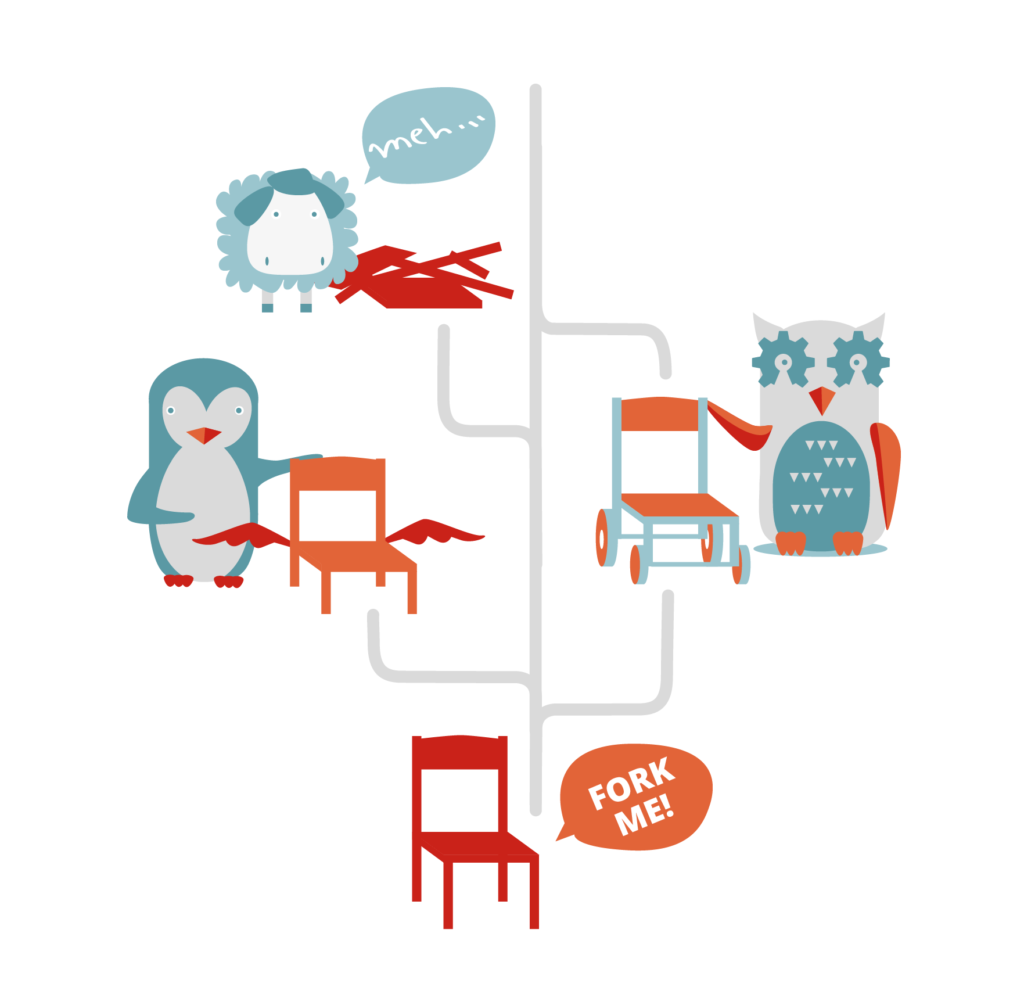 –
1 Open Experiments & Products
As openness enables collaboration we do not only publish finished work but often also unfinished prototypes and circular design studies. Take the ideas, play with them and maybe we'll see your results and incorporate them back in later iterations.
Open Circular Design as we see it is not about finished designs anyway but rather about the collaborative exploration of a world where everything can become everything.
So we don't use a centralized platform for this collaboration. We rely on the open web. Share your findings or iterations on the sites of your choice and ping us (social media accounts are → or ↓). You can also send an email.
Some projects suggest hashtags to use and find each other. For example #openshelvenodes #consistentgrids #preuse #opencirculardesign and others.
.
Decentralized Cooperation
Sustainable design works great when it supports decentralized cooperation – on the basis of open standards and collaborative circular design principles.
–
Let's design, make, share and change things – together!
(You might have noticed: This is actually a "contribution statement" and not a "guide".)
*
Last Update: May 2021
–
–
Contribution Guide – Deutsch
–
Mifactori macht Open Design oder genauer: wir machen Open Source Hardware, Open Education und Open Activism auf der Suche nach Nachhaltigkeit. Offenheit ermöglicht Zusammenarbeit. Unsere Arbeit kann frei auf jedwede Weise genutzt werden. Vielleicht können wir etwas von euch & ihnen lernen, wenn die Arbeit genutzt und sogar weiterentwickelt wird. Durch Zusammenarbeit Fortschritte für Nachhaltigkeit machen.
Hier sind unsere Wege dafür: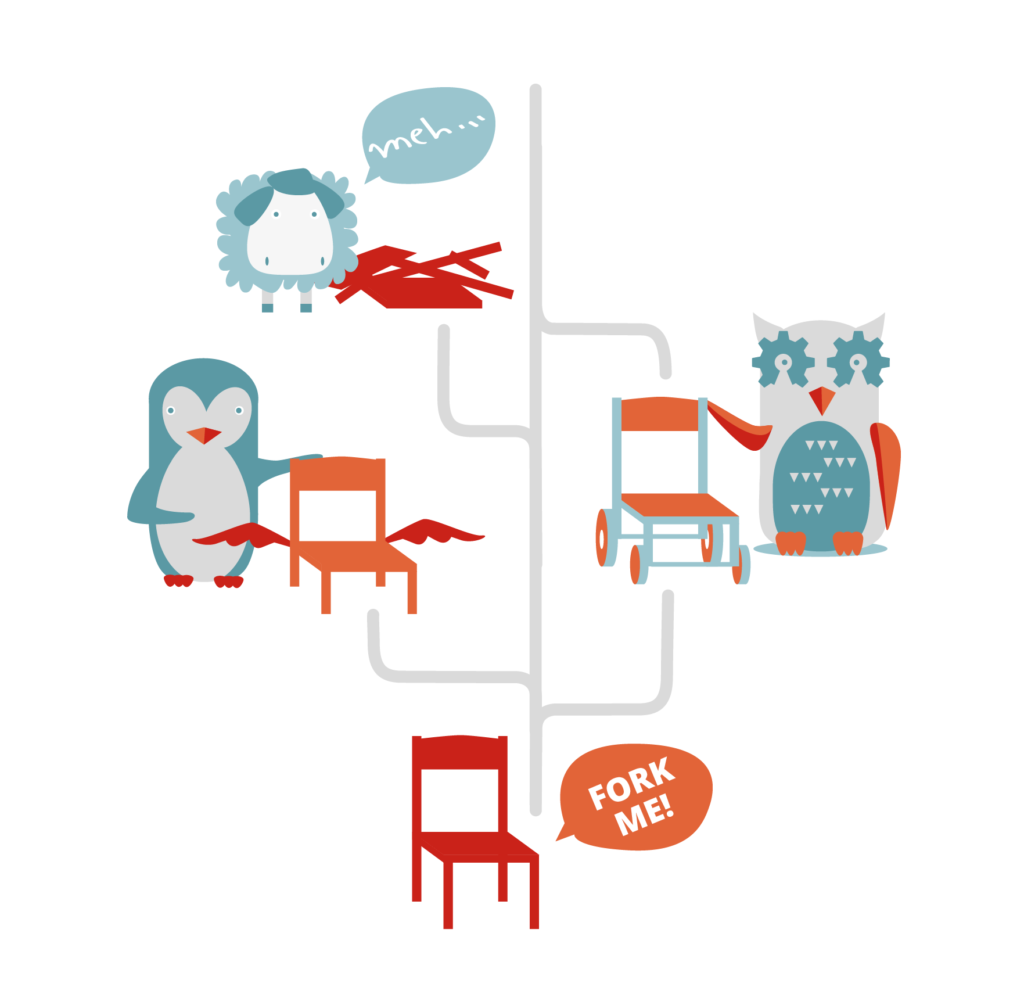 –
1 Offene Experimente & Produkte
Da Offenheit Zusammenarbeit ermöglicht, veröffentlichen wir nicht nur fertige Arbeiten, sondern oft auch unfertige Prototypen und Studien für zirkuläre Designs oder sogar einfach Bastelprojekte. Diese Ideen kann man nehmen, damit spielen und vielleicht sehen wir ihre/eure Weiterentwicklungen und lassen sie in späteren Iterationen wieder einfließen.
Bei Open Circular Design, wie wir es verstehen, geht es ohnehin nicht um fertige finale Designs, sondern vielmehr um die kollaborative Erforschung einer Welt, in der alles zu allem werden kann.
Deshalb nutzen wir keine zentralisierte Plattform für diese Zusammenarbeit, sondern setzen auf das offene Web. Teilt Erkenntnisse oder Iterationen auf den Seiten eurer Wahl und pingt uns an (Social-Media-Konten sind → oder ↓). Emails lesen wir auch.
Manche Projekte schlagen Hashtags vor, die man verwenden und über die man sich gegenseitig finden kann. Beispiele sind #openshelvenodes #consistentgrids #preuse & #opencirculardesign.
.




Dezentrale Zusammenarbeit
Nachhaltiges Design funktionert am sehr gut, wenn es dezentrale Zusammenarbeit ermöglicht – auf der Basis einheitlicher und kompatibler Standards und Designprinzipien
–
Lasst uns Dinge entwerfen, herstellen, teilen und verändern – gemeinsam!
(Ja, das ist eigentlich ein "Contribution Statement" und kein "Guide").
*
Letztes Update: Mai 2021
*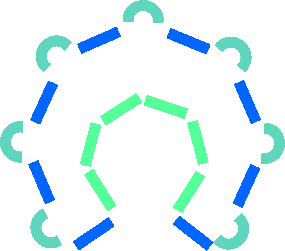 .
Open Hardware
makes the world
go round!
*