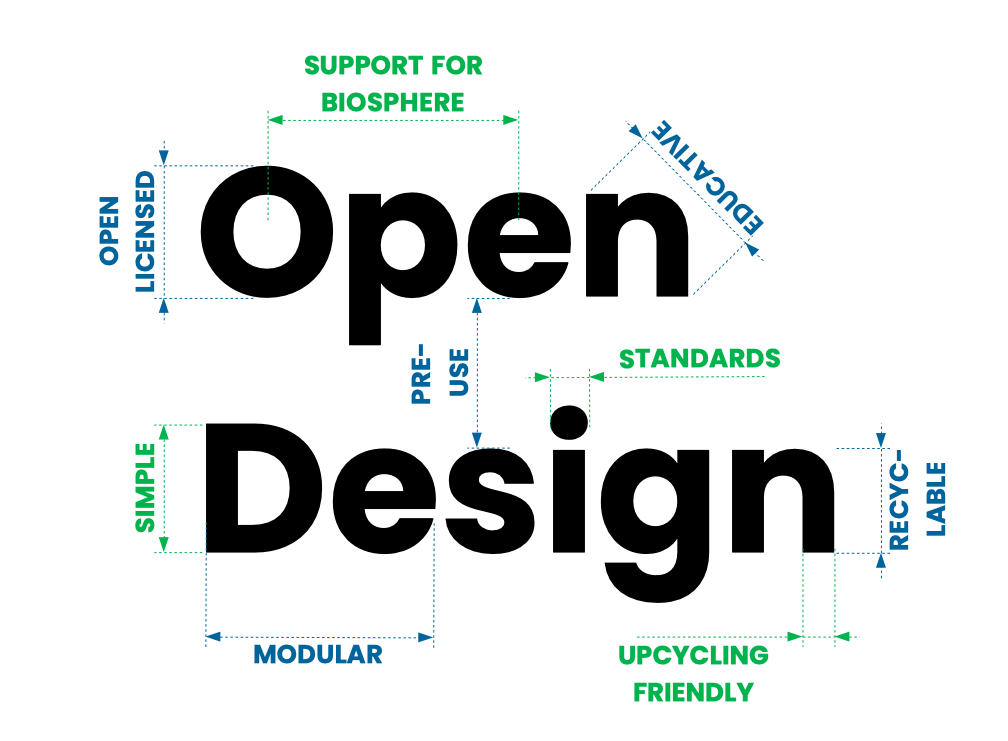 TITLE: WHAT IS OPEN CIRCULAR DESIGN?
WHAT: ARTICLE
ORDERED BY: SELF
English & Deutsch ↓
–
What Is Open (Circular) Design?
'Open Design' the term is around for some time now. There are a couple of ideas and definitions connected to the term. But the differences are usually small, everything develops into the same direction. Here is our reading of it:
(VS 1.2.)
–
–
Open Design is: 

Future

S
Open means to leave options open for the future. Enable and maintain the possibility of as many different futures as possible – with design, through design and despite of design. Open Design is an approach to sustainable (circular) design.
We connect 9 strategies to it. The more strategies are enabled in a design the more open, circular and sustainable it probably is. Let's start.
Open Design is or uses:
*
Standards
Open Design uses parts, tools and methods that are based on common and open standards.
Standards that are well documented and widespread form the basis for a shared understanding and fruitful collaboration. Standards enable others to work with your design and its parts for example in order to give it a new future when adapting it or reusing its parts.
Ideally these standard parts, tools and methods are widespread, versatile, durable and accessible almost everywhere on the globe for everyone.
*
Recyclable
Open Design uses materials that are easy to recycle as well as construction methods that support recycling.
Recycling is usually better than incineration or landfill. But recycling is still dirty, energy intense and harms the environment. With some materials this is less bad than with others – for example because there are infrastructures established for the recycling of these materials. Paper is an example in some parts of the world. Go for these materials.
Recycling keeps an open future as it keeps materials in the loop for future designs and reduces the pressure on the environment to supply us with new materials.
*
Simple
Ideally Open Design is easy to understand and make.
At best Open Design does not require special skills, high level expert knowledge or extraordinary craftsmanship to understand and produce. The future of an object is usually shaped by those who hold it in their hands. Making sure that a lot of people can work with the design and its parts productively adds many different futures!
It is clear that this is easier for some products than for others. But always try your best and push the limits!
*
Educative
Open Design educates people about design rather than simply reducing them to consumers.
As said the future of an object and its parts is usually decided by the person who holds it in their hands. If you want to enable productive futures you need to make sure that this person can see, understand and access the possible futures that might be designed into the object. Open Design explains itself, educates and invites people to co-produce. Education opens futures.
Designs might be self explanatory through simplicity or come with explanations. Supportive documentation might include a bill of materials, assembly instructions, original design files and more. Good guidelines for which documents could be provided in what form can be found in the Open Source Hardware definition (↑) and the DIN Spec for Open Source Hardware (↑).
Be a communicator! When you design for the open you have to learn to communicate not just B2B but with all users. (↑)
*
Pre-Use
Open Design is good at creative repurposing and at supporting creative repurposing.
Open Design loves parts that can be reused and repurposed in many different ways. But when Open Design creatively repurposes parts, it does not change those parts in a way that makes their originally intended use impossible. Keep existing futures alive and add more. Don't adapt your parts and materials to your design, adapt your design to your parts and materials. This is called Pre-Use.
If you need to modify parts and materials go for modifications that add possibilities to them rather than taking them away (example: 3erlin Grid).
*
Upcycling Friendly
Open Design enables and supports the use of old already used parts and materials.
Open Design is made for reuse of parts and remix of designs. Reuse and remix enable different futures. Great Open Design even makes it easy to reuse old parts and materials – ideally it can be made from different materials that don't have to be new. This is called Upcycling.
Make designs that can be made from scraps or garbage. This reduces the ecological footprint of your design (and design at all) and keeps the potentials of our environment to support many different futures.
Upcycling and urban mining friendliness add possibilities because the number of opportunities to source parts and materials increases. It is not just shops but also scrap yards and so on. You can source regionally. (More on this here: Modularize It!)
*
Open Licensed
Open Design gives everyone legal certainty to work freely with it in all imaginable ways.
Open Design wants to support and supply the creativity of others. Property rights are usually used for the exact opposite – they are made to stop others from engaging creatively and to block unwanted futures. When you design for the open you need to take care of this and make sure that there are no legal obstacles for others to work with your design.
Start with the use of Open Source compatible licenses (↑) for your design. Those licenses allow everyone to "study, modify, distribute, make and sell the design or objects based on that design." (↑) The CERN OHL and the TAPR license are licenses specifically tailored for hardware projects.
Also do not apply for patents, utility rights or design rights and communicate clearly that you have not done this and don't intend to do so. (This is how we do this)
The premier class of Open Design manages even to avoid original ideas that are possible candidate for patents, utility rights or design rights. Boring is a safe way to Openness. (Read more about this here.)
*
Support For The Biosphere
Open Design aims to preserve and nurture a productive biosphere.
The biosphere produces and provides resources and opportunities that make us healthy and fit to build desirable futures. Maintaining a healthy biosphere usually goes a long with more possibilities.
To achieve this Open Design minimizes toxic ingredients, energy consumption, land use and resource consumption in any way it can find. Go for low entropy: Reduce. Avoid. Replace something with nothing. Open Design might prefer biodegradable materials –  biodegration is natures way of recycling!
Support the biosphere structurally. Give plants and animals homes and a place by your side.
*
Modular
Open Design is modular wherever possible.
Modularity where it supports various (re)uses is a key to supporting many different futures. With 6 2×4 Lego bricks you can make 915,104,765 different combinations (↑). This kind of future options Open Design is looking for.
Modularity is a meta principle of Open Design as all of the strategies above can be seen as forms of modularity or support mechanisms for it. They aim at compatibility, upgradability and adaptability. "Standards" are often used and understood by many therefore it is likely that there are several types of applications and many are familiar with them. "Simplicity", "Educativeness" and "Open Licenses"  include as many people as possible in the design process increasing the number of options actually used. "Pre-Use" and "Recycling" look for many free new uses of materials. "Support for the Biosphere" and "Upcycling Friendliness" raise the number of options to be productive in your given environment.
*
Everything durable and supportive is constantly changing and evolving. Make Design open!
*
…
And Yes!
With this Open Design is the opposite of "star design" or "author design" where that comes with sophisticated unique shapes and forms, exclusive joining and complex material hybrids. Objects like that resist and undermine many different futures. Or have you ever tried to reuse the poly-curved, multi-material, smartly glued legs of a "high-end" design chair? It is hard to impossible.
This kind of design and approach to it became so popular in the 20st century. But it will not take us well through the 21st century. This is not design for our future. It is unsustainable. It is a dead end.
We need openness and modularity induced network effects (↑) of reuse and reduction in order to create sustainable wealth (↑) and a future that works with and for many and not just a few.
*
Make Design Open! Re-Open Futures!
*
*


end
*
*
Download Visual
If you like the visuals used in this post feel free to use it in any way you see fit. We also share an editable version here for you to download and work with. The visuals are licensed under CC0 1.0 Universal Public Domain Dedication which means there are no restrictions.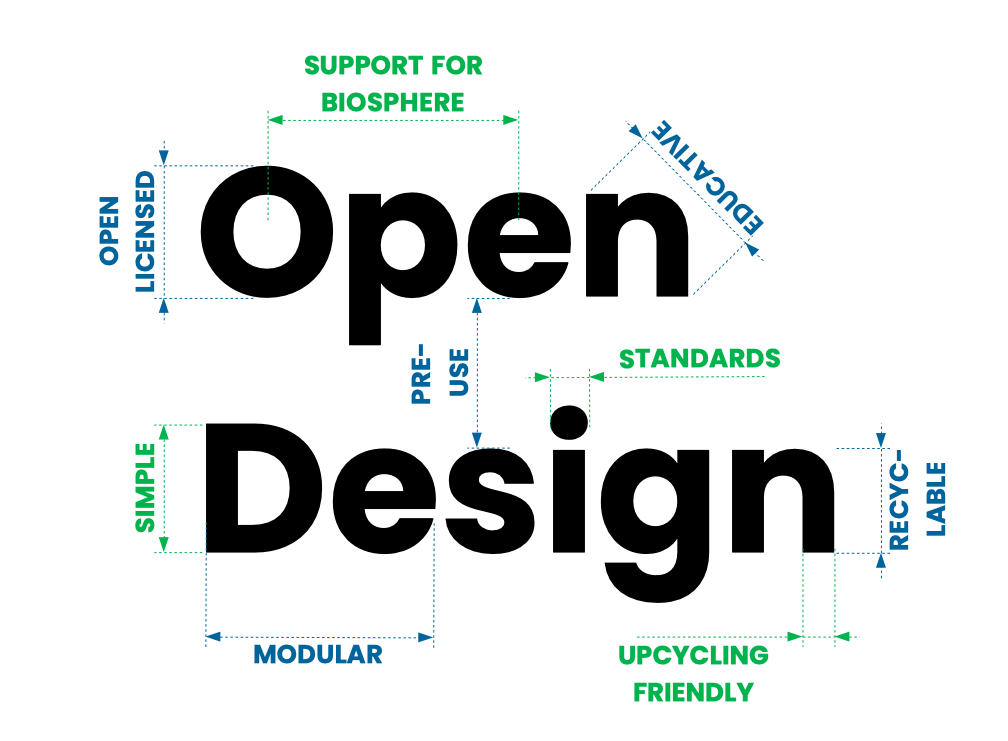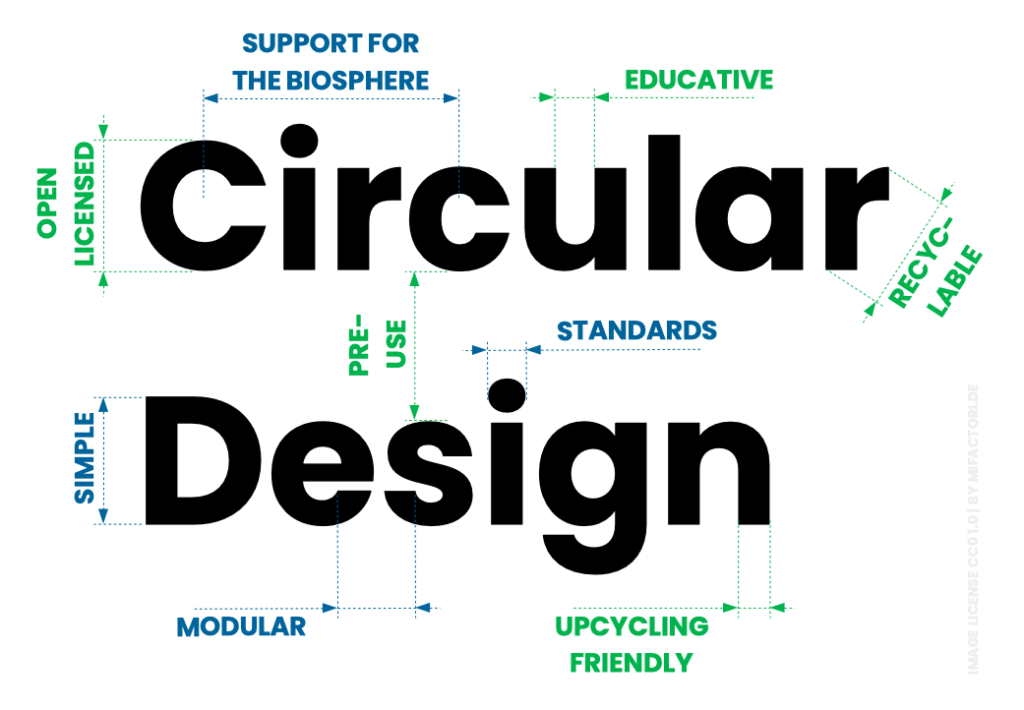 *
Log
Earlier versions
Vs 1.0.PDF  (Posted on April 2nd 2020, replaced on May 28 2020 to make the connection to Circular Design stronger)
Vs 1.1 (Vs 1.1. was revised for clearer language in June 2021.)
Vs 1.2. current version above ↑ 
.
–
Deutsche Version 
Eine deutsche Version gibt es noch nicht leider. Bis dahin einfach DeepL benutzen oder den Artikel direkt im Browser mit einem Klick auf Deutsch übersetzen.