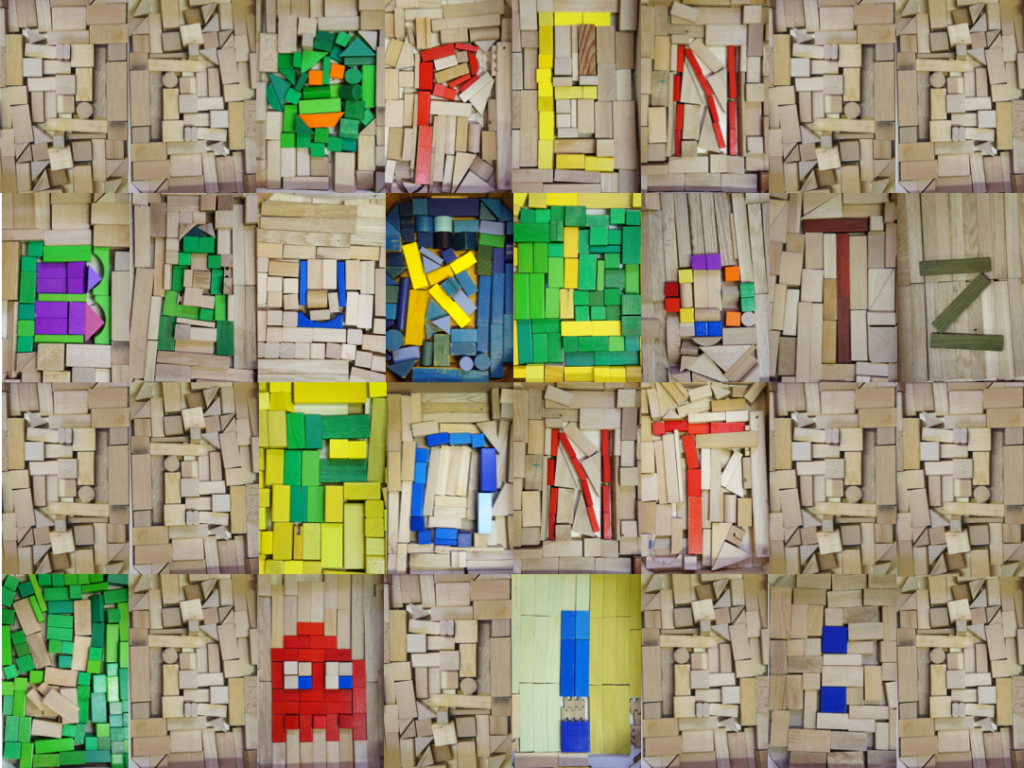 Open Bauklotz Font
A ready to use open font build by kids with wooden building blocks.
Ein frei nutzbarer Font gebaut von Kindern mit Bauklötzern.
Overview / Überblick
Download below / Download unten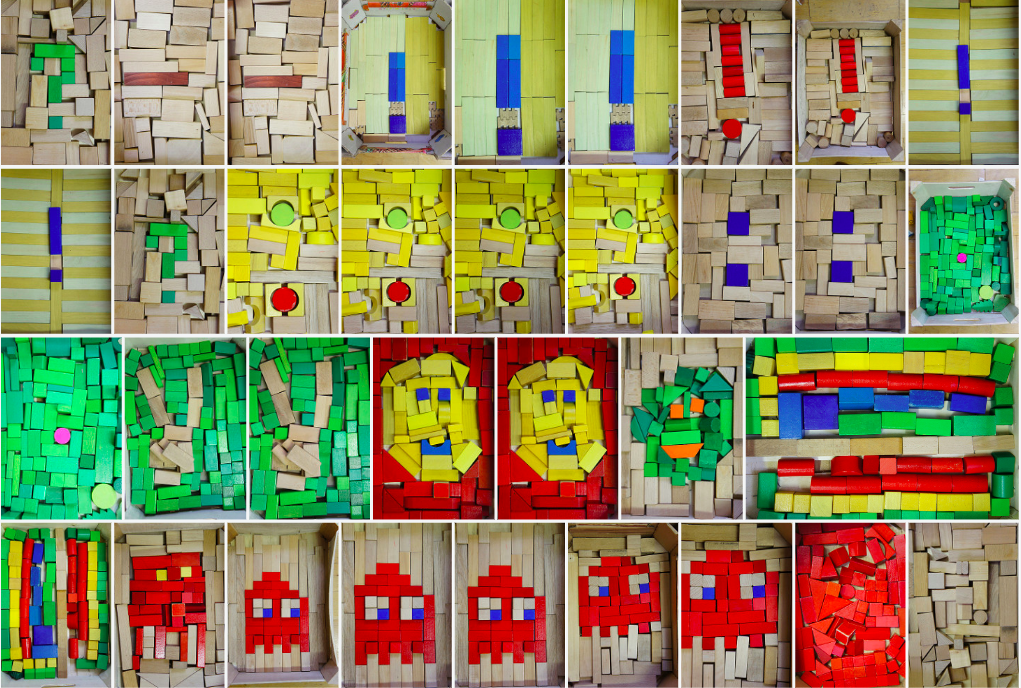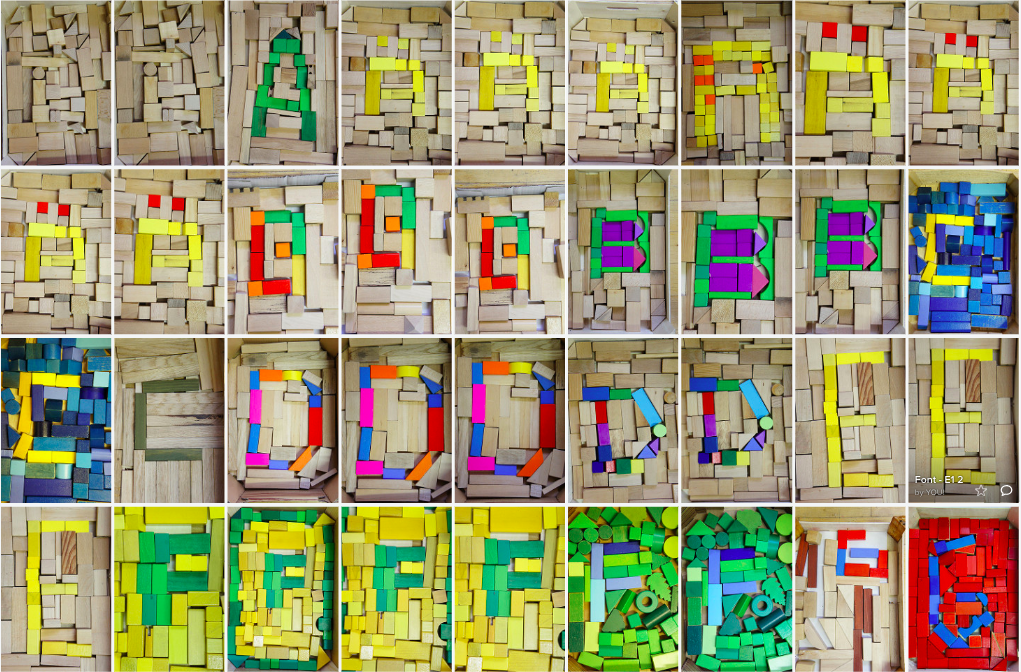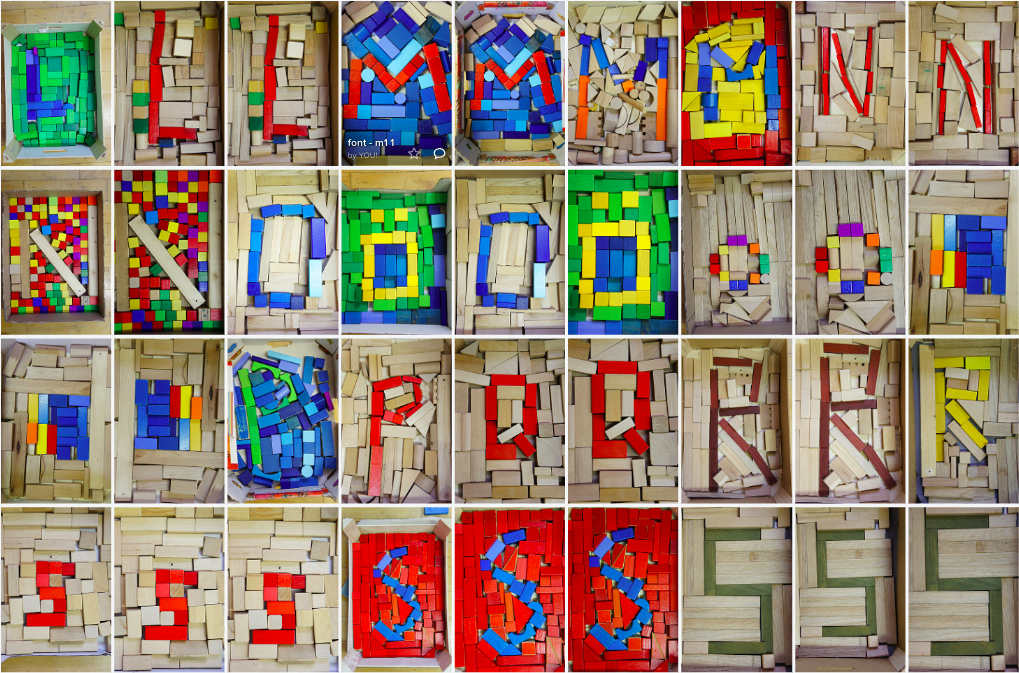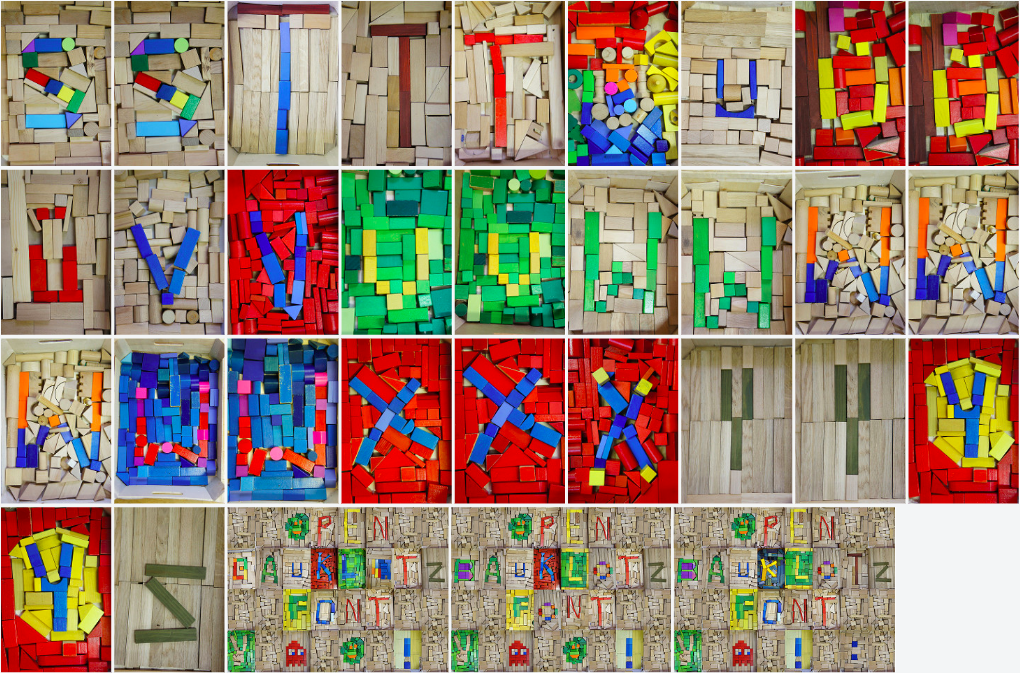 Download
All Letters – HIGH RES (Flickr) | Low Res (Gdrive)
Alle Buchstaben – HIGH RES (Flickr) | Low Res (Gdrive)
License

The pictures are in the Public Domain you can use them for anything without giving credit or asking for permission. / Die Bilder stehen unter der CC0-Lizenz. Sie sind frei nutzbar für jedweden Zweck. Nachfragen oder Credit-geben nicht notwenig.
Examples / Beispiele
Palast der Projekte Banner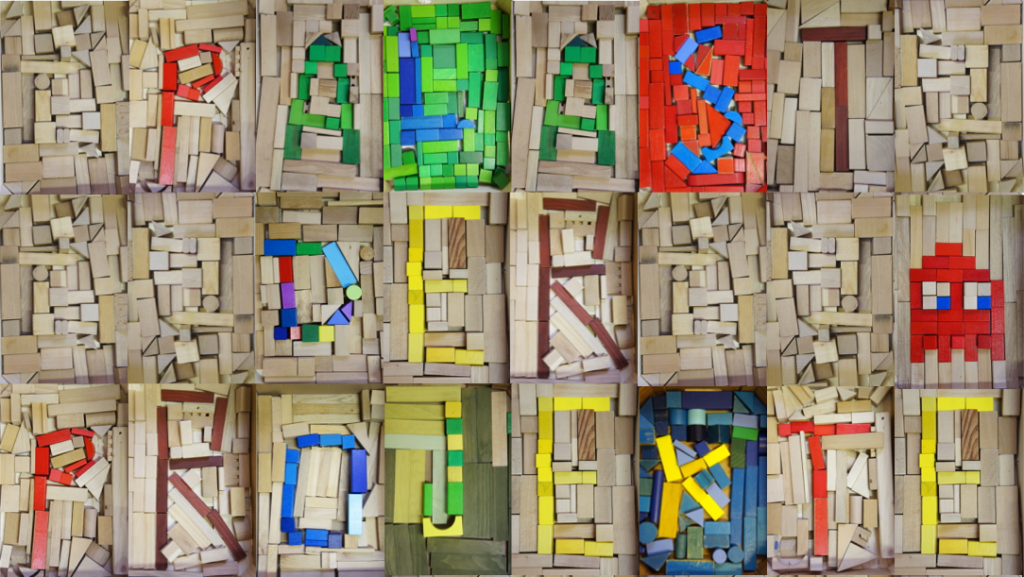 "Open Bauklotz Font" Vs. 2
Ökostadt 1

Der Jäger
Open Bauklotz Font

Ökostadt 2
How It Was Made: / Entstehung:
English: The font was created by kids (age 9-11) within our project "Palast der Projekte". We had a lot of building blocks (also used in in the farmscraper project). Each kid had a wooden box from the fruit market to keep the blocks together (see image below). We had a lottery for the letters with each letter 2 or 3 times in it so we could be sure that all letters would be created. So each kid took a lottery ticket before building. Everyone built 3 to 4 letters.
Deutsch: Die Buchstaben wurden von Schulkindern (9-11 Jahre) erstellt im Rahmen unseres Projektes "Palast der Projekte". Wir hatten dafür bereits sehr viele Holzbausteine zur Verfügung (siehe Farmscraper-Workshop). Jedes Kind hatte eine kleine Holzbox vom Gemüsehändler, in die die Klötze hineingebaut wurden. Alle haben mehr als einen Buchstaben gebaut. Wir hatten einen Lostopf, darin waren für jeden Buchstaben 2 bis 3 Lose. So konnten wir sichergehen, dass mindestens jeder Buchstabe einmal in guter Qualität entstand. Jedes Kind zog ein Los und baute los. Ingesamt zog jeder 3 bis 4 mal und hat also 3 bis 4 Buchstaben gebaut.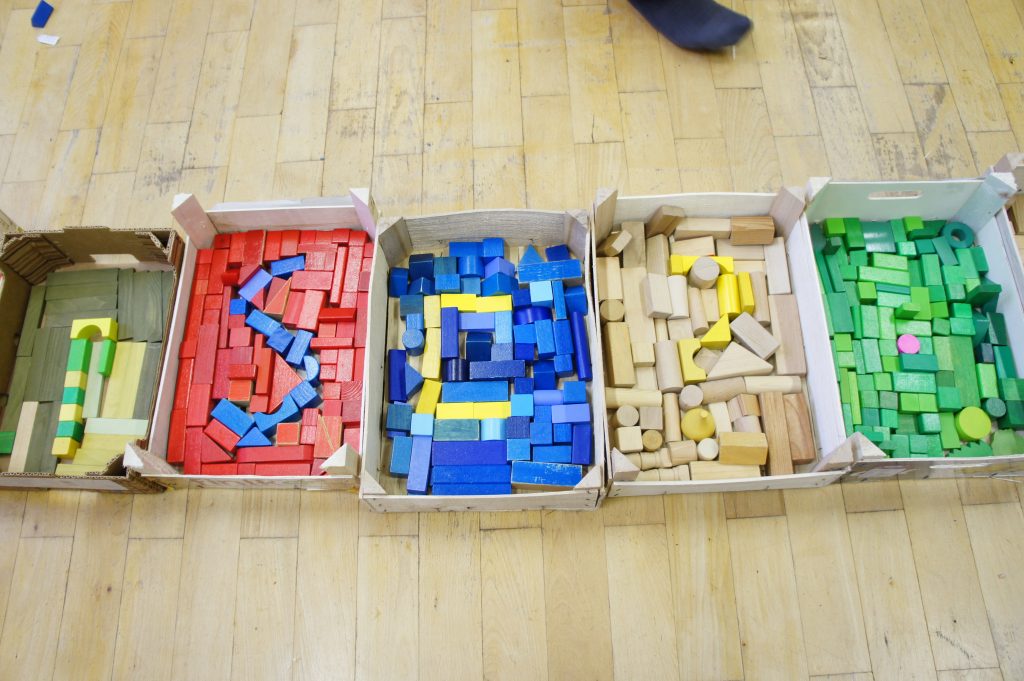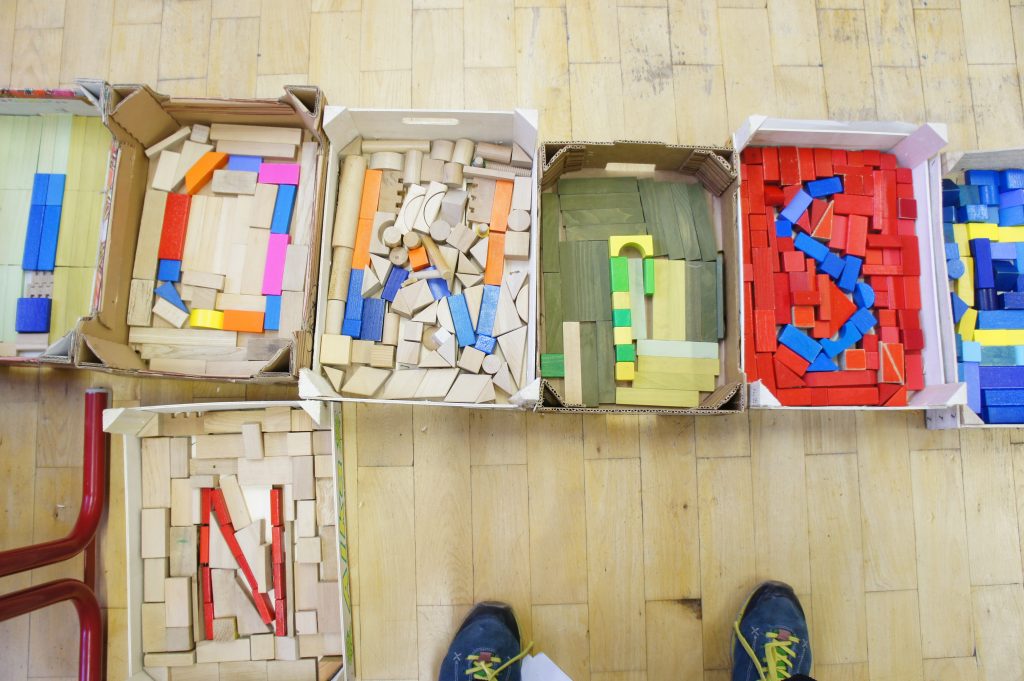 Support / Unterstützung
The project was funded by Berliner Projektfonds kulturelle Bildung, lead by Lars and supported by Willie Tomes