Story
Mifactori works in close relationship with the CRCLR lab of the Agora Collective – an institution to push the Circular Economy in Berlin and Germany. For their 'Open Source Circular Economy Days Berlin 2016' they needed furniture for hundreds of people in their event space, which is right now nothing more than a construction side.
Luckily the CRCLR lab stayed true to its mission and did not throw away any of the stuff they found when they took over the Kindl brewery shed in 2015. So there was plenty of wood and other materials to work with (including leftovers from current construction work).
So Mifactori jumped in to build several tables and benches – all with the 3erlin Grid.
The work needed to be quick and dirty, there was limited time! The space will stay a construction side for much longer and the structures will stay there. So they are designed accordingly.
Scroll down for images and more information
ALL IMAGES ENLARGE WHEN YOU CLICK ON THEM
Die Geschichte
Mifactori arbeitet eng zusammen mit dem CRCLR lab des Agora Collective – einer Insitution mit dem Ziel, die Circular Economy (Kreislaufwirtschaft) voranzubringen in Berlin und Deutschland. Für deren "Open Source Circular Economy Days Berlin 2016"  wurden Tische und Sitzgelegenheiten für hunderte Leute gebraucht.
Glücklicherweise steht das CRCLR lab zu seiner Mission, und beim Einzug in ihre neue Halle im Herbst 2015 wurde nichts weggeworfen. Damit gab es ausreichend Holz und Material zum Arbeiten (inklusive einiger Reststücke von gegenwärtig stattfindenden Bauarbeiten.)
Also war Mifactori zur Stelle und hat einige Tische und eine Vielzahl von Bänken gebaut – alles mit dem 3erlin Grid.
Die Arbeit musste schnell gehen und durfte dreckig und unperfekt sein. Das Event fand auf einer Baustelle statt und der Ort wird noch eine Weile eine bleiben. Dementsprechend können die Möbel dazu passen.
Für Bilder und mehr Informationen runterscrollen.
ALLE BILDER WERDEN GRÖSSER, WENN MAN DRAUFKLICKT
P I C S  &   D O C U    |   B I L D E R   &  D O K U
IMG credits: Michaela Muchina (cc-by) 
Table 1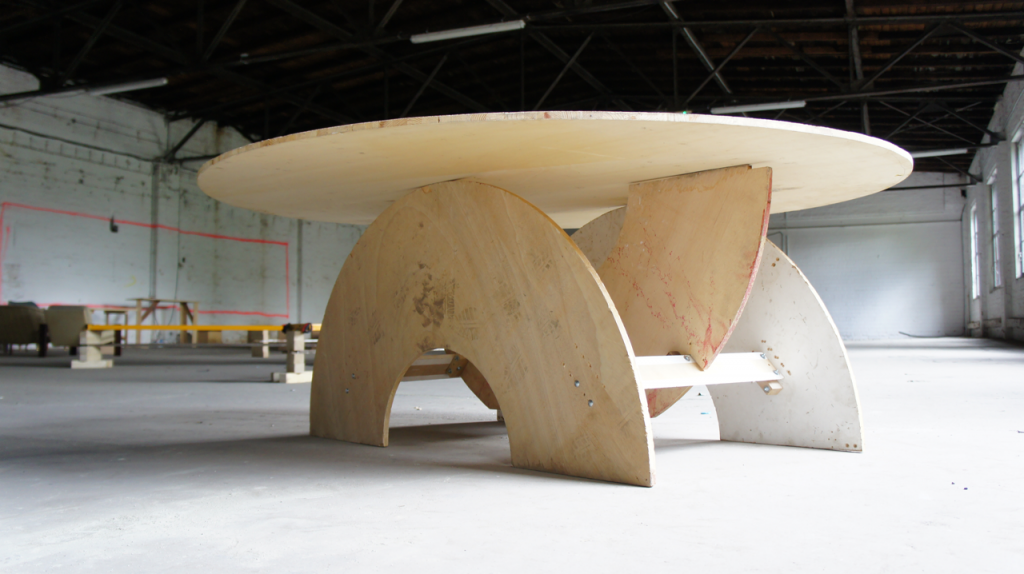 The first table Lars has ever built and the first Mifactori table ever! It is all about Circularity and Open Source ; – )
Der erste Tisch, den Lars je gebaut hat und der erste Mifactori Tisch überhaupt. Alles geht um Kreisläufe und Open Source ; – )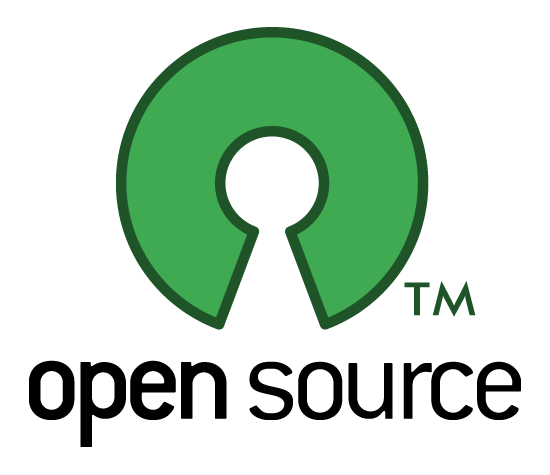 Table 2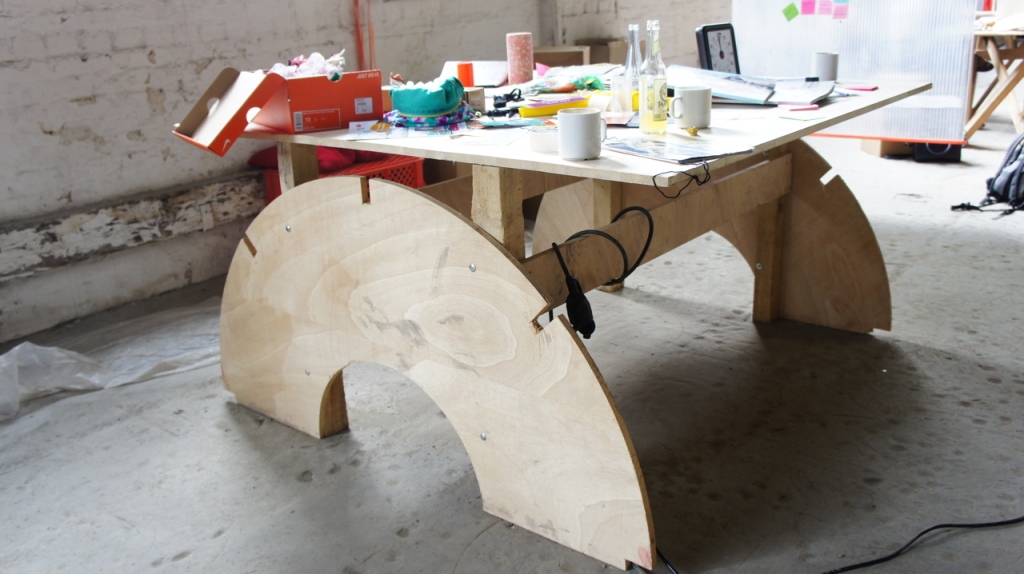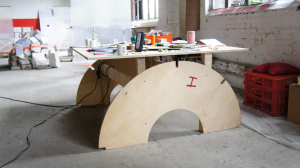 Benches / Bänke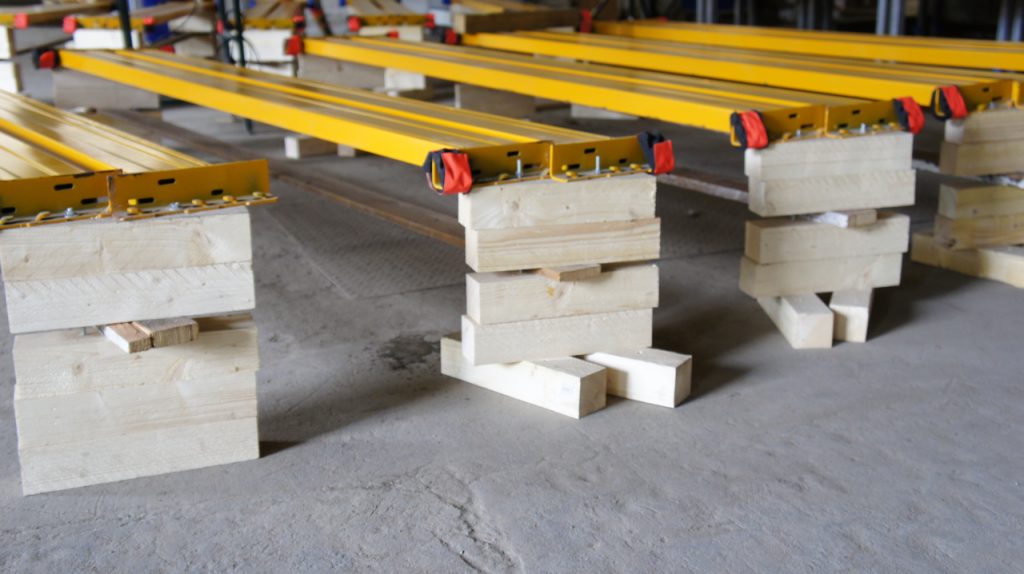 In the space were this huge and heavy metal planks – people told us they are used to build high shelves (Hochregale).
They had a hole on each side to work with so we did not had to drill a new one and hurt the material/destroy the protective layer. For the benches we used wooden bars (rest pieces and new ones)
Bars: 78x78x330mm
Holes: 2 for the column pieces (150mm distance) and 1 the middle for the foot pieces (sunken).
Connection: Through the columns run 2 threaded rods (M8 – 430mm)
We learned later that we did not need feet to stabilize the structure. The pole between the bars was totally enough and made the benches very stable and very trustworthy. 6 people could sit on one, at least.
Table 3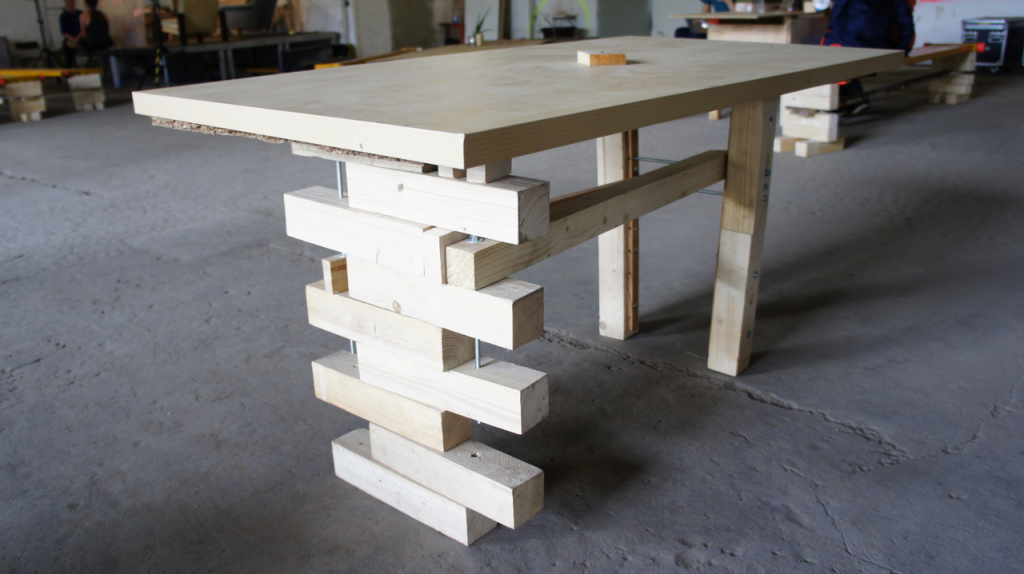 We had some of the bars from the benches left so we could use them to build another table – playing around with the possibilities. This construction works completely without any new holes in the bars : – )
Table 4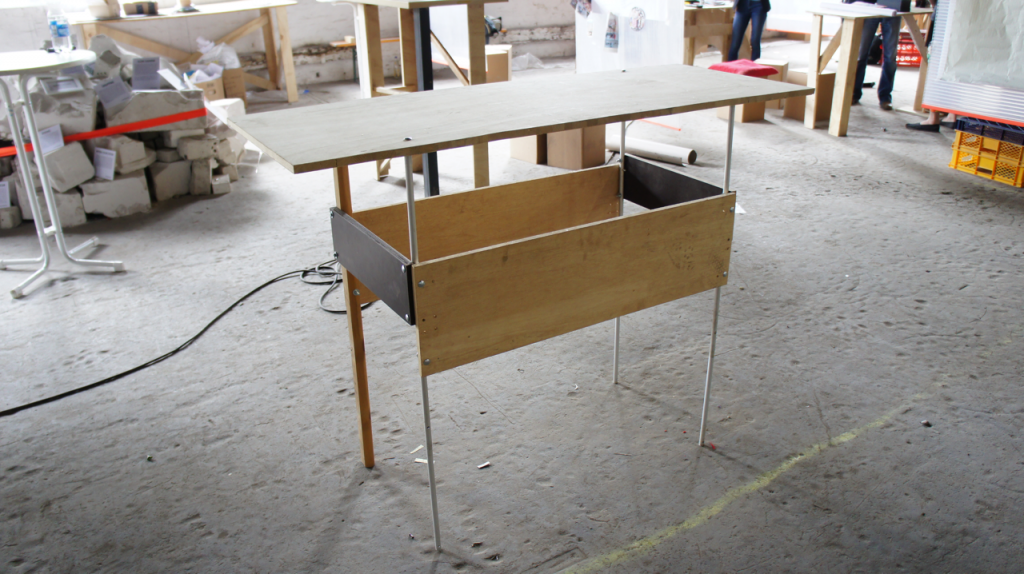 Three of the legs on this table are made from aluminum rods that were part of a broken kicker that was thrown out into the streets around the corner.
Tables 5 – 8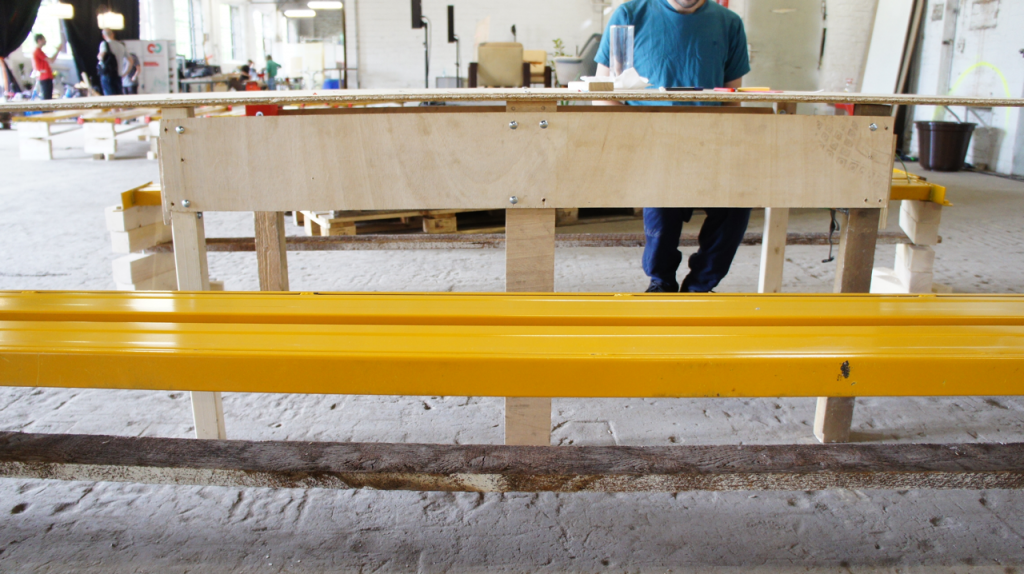 We built a bunch more tables all following the simple principle above. It was the first larger session with the 3erlin Grid for us. And it takes some time to run into all pitfalls and learn from them.
PROBLEMS !
Help or suggestions appreciated
Bolts
1 – We used M6 carriage bolts – which is actually a problem, because they are sometimes not easy to make lose again. So you have to hold the thread with pliers – which destroys the bolt… Carriage bolts are not a good choice.
2 – In order to react to the different sizes of the found material we needed different length for the bolts – from 60mm, 80mm, 100mm, 120mm. Sometimes there was the need for other sizes – for example 110mm when 100mm was too short but 120 to long – the thread did not go all the way down to the material. Then we used self made wood wenches. But this is not very elegant. Maybe we need all sizes.
3 – The biggest problem is, that M6 Screws are way to heavy and consume way to much material just for some tables. M5 would do! The problem is, that it is hard to get M5 bolts longer than 70mm. With some effort you can get 100mm, yes. But 120mm is really a problem. And everything above 70 becomes pretty expensive! / to work with threaded rods could be a solution wich is… not too elegant I think.
Update: Source for up to 220mm
MORE DOCUMENTATION?
Want more detailed documentation? Feel free to ask questions (below in the comments or via email.) Most stuff you should be able to figure out yourself by studying the documentation of the 3erlin Grid
PROBLEME !
Hilfe und Hinweise sehr willkommen
Schrauben
1 – Wir haben M6 Schlossschrauben verwendet. Das ist ein Problem, denn manchmal lassen sie sich nicht mehr lösen – die Köpfe drehen sich mit. Dann muss man mit der Zange die Schraube am Gewinde festhalten, um die Mutter zu lockern. Dabei geht die Schraube aber kaputt … was nicht im Sinne der Sache ist. Schlossschrauben sind also keine gute Wahl!
2 – Da das Material verschieden dick war brauchten wir verschieden lange Schrauben – 60mm, 80mm, 100mm, 120mm. Manchmal waren diese Längen aber gerade zu kurz oder zu lang für einen Abstand – dann guckte zuwenig Gewinde hervor oder das Gewinde reichte nicht bis runter zum Material. Dann haben wir selbstgebaute Holzunterlegscheiben als Verlängerung genutzt – was nicht sonderlich elegant ist. Wahrscheinlich muss man auch alle Zwischengrößen verfügbar haben… Das bedeutet viele Schrauben schleppen…
3 – Das größte Problem ist, das M6 Schrauben viel zu schwer sind und viel zu viel Material verbrauchen. Für Tische würden M5er völlig reichen! Das Problem ist, das es sehr schwer ist, M5 Schrauben über einer Länge von 70mm zu bekommen. Mit Aufwand bekommt man 100mm und vielleicht sogar 120mm. Das wird dann aber sehr schnell sehr teuer… Man könnte einfach mit Gewindestangen arbeiten, dass ist aber auch nicht allzu elegant …
Update: Quelle für bis zu 220mm
MEHR DOKUMENTATION? 
Mehr Dokumentation mit mehr Details? Einfach nachfragen, unten in den Kommentaren oder per Email. Das meiste sollte man aber selbst herausbekommen können, wenn man die Dokumentation des 3erlin Grids studiert.