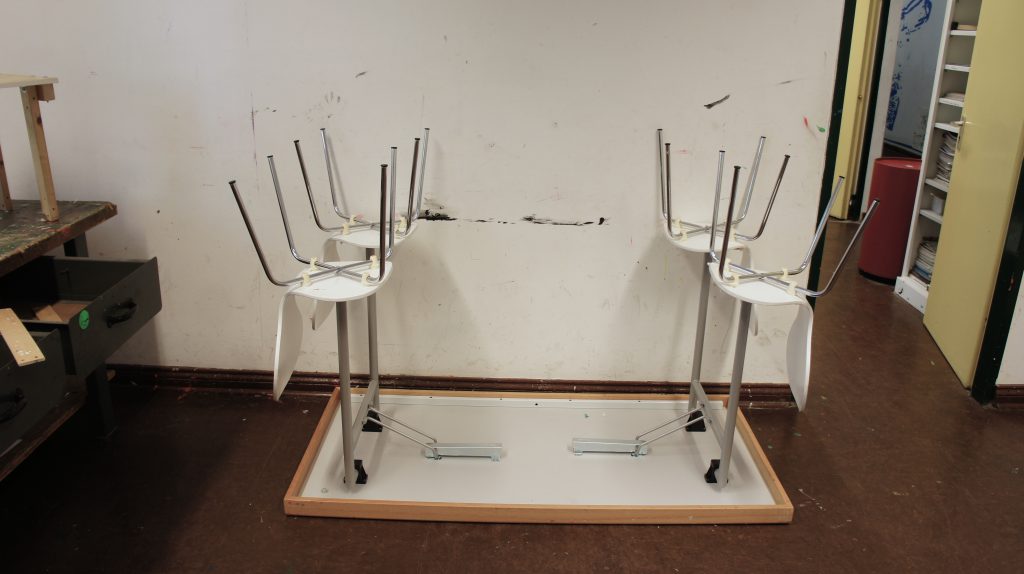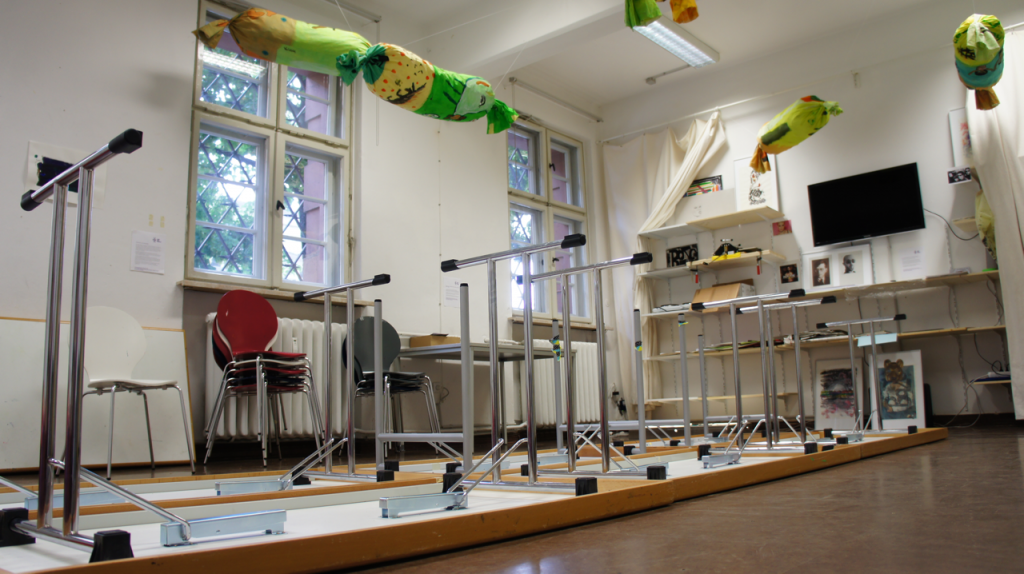 °
Exhibition –1 – Young Arts Neukölln – Berlin – June 2016
EN: This is the documentation of the first installation of 'exhibition'. The installation happened in the Young Arts Neukölln (Berlin, Germany) a space where artists run workshops with kids (Like we did some months earlier).
The challenge was to make the 'Young Arts Neukölln' visible as a space, institution and opportunity to the neighbourhood while presenting the children's artwork of the past year at the same moment.
We decided to not try to hide it but to put it extra on the spot. We turned everything that is usually there upside down – like you look up through a transparent floor – and to open up the processes and routines of the space (open doors, piles of garbage etc.)
This gave the space a 'transparent' feel and aestheticized it. It made it easy for recipients to cognitively separate the space from the shown artwork. Space and art became each others humble stage.
We supported everything with infrastructure (like mobiles, pedestals, boards) made from aluminum poles using the 3erlin Grid. This played well together with the 'transparency' and 'hover' feel.
The work was well received and kids and adults seemed to have equally fun in it 🙂
Download Images in High Resolution (CC-BY)
July 2016
–
DE: Dokumentation der ersten Installation von 'Exhibition' im Young Arts Neukölln in Berlin – ein Ort an dem Künstler Workshops mit Kindern und Jugendlichen machen (wie wir z.B. ein paar Monate früher).
Die Herausforderung war, das Young Arts Neukölln sichtbar zu machen als Ort, Institution und Möglichkeit für die Nachbarschaft und im gleichen Moment die entstandenen Kunstwerke des letzten Jahres zu präsentieren.
Anstatt die Infrastruktur zu verstecken, haben wir sie extra präsentiert. Alles, was gewöhnlich dort steht, ist auf den Kopf gestellt – so als würde man durch einen transparenten Boden in den Raum über einem schauen; wir haben damit und außerdem die Prozesse und Abläufe des Ortes geöffnet (offene Schranktüren, Müllsammlungen etc.)
Das gab dem Ort ein Gefühl von 'Transparenz' bzw. hat ihn ästhetisiert. Damit wurde es leicht für die Besucher, den Ort zu trennen von den darin gezeigten Arbeiten. Ort und Kunst wurden zur Bühne füreinander.
Wir haben alles unterstützt mit Mobiles, Sockeln und Boards aus Aluminumstangen mit dem 3erlin Grid. Das spielte gut zusammen mit dem 'Transparenz-' oder 'Schwebegefühl' der Ausstellung.
Die Arbeit wurde sehr gut aufgenommen; Kinder und Erwachsene schienen gleich viel Spaß darin zu haben. 🙂
Bilder runterladen in hoher Auflösung (CC-BY)
Juli 2016
–
P I C T U R E   T O U R
(VIDEO below | VIDEO unten)
Click on Images to ENLARGE | Auf die Bilder Klicken zum VERGRÖSSERN
°

Flur/Floor 1 – "Eingang & Snack Bar"
+ upside down sofa; + upside down "Office (Büro)"; + upside down signs; + Mifactori XZY aluminum "bar" built with 3erlin Grid
°

Flur/Floor 2 – "Klapppuppen"
+ Mifactori XYZ picture pedestal; upside down "Beware Of Thiefs" signs
°

Blauer Raum – "Marionetten"
+ upside down trash-can, board, spint, sofa, tables; + Mifactori aluminum structures with 3erlin Grid on a stool = pedestal

°

Flur/Floor 3 – "T-Shirt Mobile"
+ open workshop door; + upside down Feuerlöscher; + transport car
°

Gelber Raum – "Bonbons"
+ open storage; + upside down tables, trash cans, easels
°

Floor 4 – "Garden"
+ kaktusstühle & hürdenböcke
°

Lila Raum 1 – "Structures"
+ open drawers; + upside down furniture; + open doors; * with the results of our workshop   
°

Lila Raum 2 – "Schlaraffenland-Memory"
+ upside down furniture; + open doors
°
Grüner Raum & Ausgang – "Autostadt" & Reisebüro
+ coat hooks, board, trash can upside down (or before)
V I D E O
Quick flight through the almost finished exhibition / Flug durch die fast fertiggestellte Ausstellung.
°
Mifactori Exhibition Designers: Lars Zimmermann (lead), Michi Muchina
Image Credits: Zimmermann & Muchina, CC-BY
*
Thanks to / Danke an das Young Arts Neukölln – Katia, Henriette, Frauke, Christiane, Wolfgang & Mike*, Uwe*, Martin*
July 2016
large image for social media preview